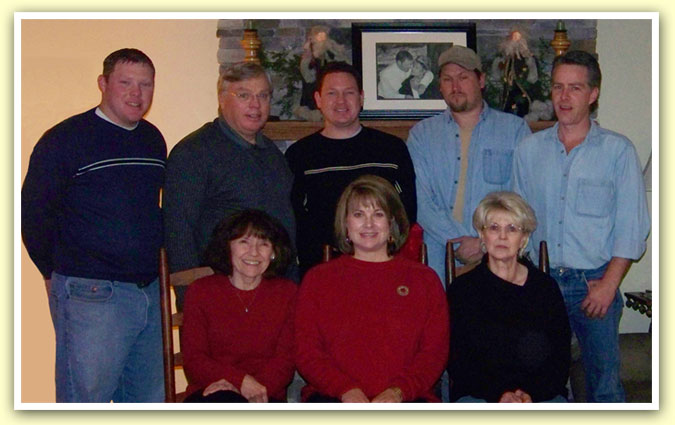 Standing left to right - Brent Shelton, Terry Shelton, Brian Shelton, David Harkness, Chad Logsdon
Seated left to right - Diane Shelton, Christine Shelton, Kaye Skaggs
Terry and Diane Shelton
Terry and Diane started Quarry Hill Monuments in 1990 after the passing of Terry's grandfather. The family went looking for a memorial, and realized that there were very few options to personalize the monument. They also realized that many monuments were over priced. With this in mind, they decided that Central Kentucky needed a full-service start to finish monument company that offers reasonable prices and unique opportunities for personalization.

Brian Shelton
Brian has worked with the company since Terry and Diane started it in 1990. He has attended many training classes in the monument industry. He also graduated from The University of Kentucky Department of Business with honors. Brian grew up working the business, and he manages the daily activities at the Linwood location. He is also the head monument consultant in sales. He frequently meets with customers regarding the level of personalization the family might want on the monument. He also is in charge of operating the manual sandblaster. He custom cuts all of the different designs on the monuments making sure that no detail is left untouched. From start to finish, Brian is a part of the process.

Brent Shelton
Brent has also worked with the business since it started in 1990. A man of many hats, Brent also helps in the sales department, the automatic sandblaster, the stone polisher, and setting of the memorials. Over the years, Brent has fine tuned each process to make sure that no detail gets left behind.

Chad Logsdon
Chad has been with Quarry Hill for 10 years. He is an excellent artist that transfers his talent to granite. All of Chad's etchings are done free-handed. This makes each piece a one-of-a-kind design. In the bottom corner, he signs each piece to designate it's authenticity. This service allows us to offer a high level of customization for each memorial. Chad is an extremely talented artist that can put a family's legacy on a stone.

David Harkness
David has worked part-time with Quarry Hill Monuments since 1995 as well as being self- employed. David knows through being self employed the amount of energy and dedication it takes to run a business. In 2006 he joined our Quarry Hill Monument team full time. David is a great asset in sandblasting and setting our monuments.

Christine Shelton
Christine has been with the company since 2006 as office manager. She is also the sales contact for the LaRue County office. Before joining the staff of Quarry Hill Monuments she used her business degree at Magnolia Bank for 10 years and as a recruiter for Fort Knox National Company for 5 years. Christine's customer service experience helps our customers through emotional times as well as planning for the future.